Avoid Vacancy with Better Oakland Leasing
California Pacific Realty can lease your rental home quickly to the best tenants and for the highest rental price. Our experience in the Oakland rental market ensures you don't lose money on long vacancies, problematic residents, or weak lease agreements.
We don't succeed until you succeed.
Let's Improve Your Leasing Process
Are you struggling with vacancy? We can help. Leaving your property unoccupied is expensive. Not only do you lose the rent that should be coming in, you're also paying out-of-pocket for utilities, maintenance, wear and tear, and cleaning. You have to keep marketing and showing your rental home. Expect us to rent out your home quickly.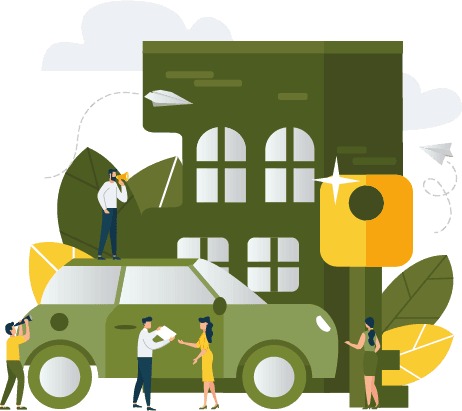 Strategic Marketing
Successful leasing starts with strategic marketing. We have the technology to syndicate your listing and attract the most qualified tenants looking for Oakland rental homes.
Responsive Showings
We keep interested tenants close, allowing them to see your home at times that are most convenient for them. Our efficiency and responsiveness generate a faster application process.
Easy Applications
Online applications are immediately available to tenants who want to lease your home. We share our rental criteria, collect the application fee, and provide instructions for how to apply.
Tenant Screening
Legally compliant tenant screening procedures are rigorous, consistent, and quick. We identify qualified residents and offer them a lease.
Oakland Leasing Should be Easy
Better Tenants
Owners want a fast leasing process because vacancies are expensive and frustrating.
Bad tenants are even worse.
We don't sacrifice our high tenant standards in order to get your property rented quickly. Instead, we identify, attract, and screen high-quality residents through our pre-screening chats, our written and documented set of rental criteria, and our in-depth system for screening every application we receive.
After the marketing and the showings and the applications and the screenings, we end up placing a resident who we know will pay rent on time, take care of the property, and faithfully follow all the terms of the lease agreement.
Higher Rents
The Oakland rental market drives what you can ultimately charge for your rental property.
We collect the best data and follow the latest trends to ensure your property is correctly priced. We make sure the rental value is a competitive one that gets the attention of well-informed tenants. We also make sure you're not at risk for leaving any money on the table.
With a lot of research and some strong comparables, we'll suggest a rental value that will get your property off the market quickly and leased to the best tenants. We understand rent control laws, fair housing requirements, and the protections in place for Section 8 renters. California Pacific Realty covers everything.
Faster Leasing
Strategic marketing, responsive showings, and careful screening. All of that combined with an accurate rental price and years of experience leasing Oakland homes allows us to create a fast, effective leasing experience for you and the tenants who ultimately rent your home.
You can expect lower vacancy rates, higher tenant retention rates, and an accurate and profitable rental value. We'll handle the lease negotiations, the collection of security deposits and move-in funds, and the all-important move-in inspection which will ultimately protect your property by documenting the condition of your investment.
This is the way to lease an Oakland home.
You Need a
Free Rental Analysis
Pricing your home correctly is an important first step in renting it out. We understand the Oakland rental market and we know how it changes from neighborhood to neighborhood. We'll take a look at your property and evaluate its rent potential before we begin marketing.
We manage rental properties in Uptown, Lake Merritt, the Montclair neighborhood and elsewhere in Oakland.
Wherever your Bay Area investment property is, we can help you determine how to price your investment property to improve your cash flow and increase your ROI. Contact California Pacific Realty for a rental analysis.
What People Are Saying About Us
Monday - Friday 9am - 5pm