DUBLIN PROPERTY MANAGEMENT
Dublin Property Management Services Exceeding Expectations
California Pacific Realty provides its owners and investors with local Dublin property management services and resourceful industry leadership that delivers better investment results. You need residential management solutions, and we provide those. Our experience is deep in this community, and we're happy to help owners and tenants enjoy an outstanding rental experience. There's a lot that sets us apart from other Dublin management companies. We're systems-driven and service-oriented. We know how to help you buy, sell, manage, and renovate, and we look forward to learning more about your rental properties.
We only succeed because our clients succeed.
Dublin Property Management Services Offered by California Pacific Realty
We work with a diverse range of investors and their properties. Our team manages single-family homes and units in multi-family properties. We work with landlords who are renting out only one home and experienced investors who need help with an entire portfolio. We help with sales and acquisitions. It's a full-service real-estate and property management experience when you partner with our talented team. Whether you're working with one property or a dozen, our team can meet your needs and provide the high-quality investment experience you're seeking.
Our team takes care of all your needs, from leasing and marketing to screening and inspections. We handle tenant relationships and stay current on all the changing rental laws in California. Your rental property in Dublin is in excellent hands and likely to perform better when you're working with California Pacific Realty.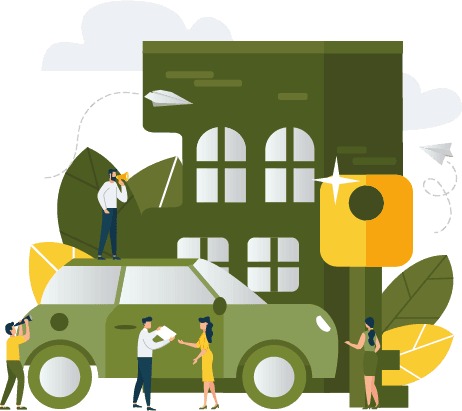 Strategic Marketing Targets Qualified Tenants
Professional photos, detailed listings, and online advertising serve as the focus of our marketing strategy.
Tenant Screening Protects Your Property
While following all state, federal, and local laws, we screen tenants carefully to ensure they're responsible and reliable.
Rent Collection is Consistent
Stop chasing down late rent and wondering how to enforce late fees. We have a consistent and well-enforced rent collection policy in place, leading to a high percentage of on-time payments.
Protecting Your Real Estate Asset
With detailed inspection reports, a preventative maintenance plan, and ongoing communication and transparency, you'll have all the peace of mind you need.
Take a Look at Our Management Plans.
Dublin Property Management and Real Estate Services
Local Leasing Expertise for Dublin Rental Properties
If you're renting out a home on your own, you need to know the laws and the regulations set forth by state, local, and federal governments. These laws are getting more and more complex, which means renting out a home legally is far more complicated than it once was. Rely on professional Dublin property managers like the team at California Pacific Realty. Our owners don't have to worry about making an expensive mistake; we know the laws well, and we know how to manage an efficient and effective leasing process while remaining legally compliant.
Lower vacancy rates thanks to our superior marketing programs and streamlined application process.
Better tenants who pay rent on time and take care of the properties they live in.
Fair housing and Section 8 compliance, plus attention to all local, state, and federal laws.
Having an excellent tenant in place is the only way to have a successful leasing experience. You can count on California Pacific Realty to attract the best local tenants, manage the entire leasing process, and prepare all parties for a pleasant and positive tenancy.
We lease homes throughout Dublin and the surrounding communities.
Dublin Rental Property Maintenance and Full-Service Management
We take maintenance seriously, whether it's a simple garbage disposal fix or a need for a new roof. When it comes to the routine requirements of your rental property, tenants reach us through an online request system. For emergencies, we're available 24 hours a day and seven days a week, providing peace of mind to both owners and residents. We also take preventative maintenance plans into consideration, saving our owners time, money, and headaches.
Our full-service Dublin property management services include the following:
We'll handle the tenant relationship, including disputes.
We keep maintenance costs in check with affordable work, preventative repairs, and constant communication.
We collect rent, hold the security deposit, and conduct regular audits to provide transparency and accountability.
Interior property surveys are conducted every six months, and you'll receive a detailed report with pictures.
We provide all owners with detailed accounting reports and statements.
We help owners and investors throughout Dublin, including the zip code 94568.
Don't settle for property management that only meets some of your needs. Let our full-service plans take care of all the details.
Professional Property Accounting Investors Can Trust
You expect property managers who are transparent and accountable to your expectations. This is especially critical when it comes to your money. Our investment in property management software and innovative technology platforms helps the California Pacific Realty team provide accounting reports and statements that are detailed, accurate, and easy to read and understand. We're here if you have any questions about them, but we make sure they're user-friendly and always updated in our system.
You'll receive an electronic accounting statement every month with your rental payment. All of your income and expenses are easy to view, and the data we provide can help you make important investment decisions. We're also here for you at tax time. You'll also receive an annual statement and a 1099.
We follow all acceptable accounting standards and best practices. We'll maintain a trust account and an itemized list of any deposits and withdrawals to or from that account. Our team will handle the return of the security deposit and its proper accounting. Most importantly, we'll make sure you receive your rental income quickly and on time.
Our Dublin property managers are accessible and responsive. We won't leave your questions unanswered. Emergency maintenance response is available 24 hours a day.
Get A Free Rental Analysis
Pricing your home correctly is an important first step in renting it out. We understand the Oakland rental market and we know how it changes from neighborhood to neighborhood. We'll take a look at your property and evaluate its rent potential before we begin marketing.
We manage rental properties in Uptown, Lake Merritt, the Montclair neighborhood and elsewhere in Oakland.
Wherever your Bay Area investment property is, we can help you determine how to price your investment property to improve your cashflow and increase your ROI. Contact California Pacific Realty for a rental analysis.
What People Are Saying About Us
Monday - Friday 9am - 5pm