Full Service Oakland Property Management Means Fewer Errors
Even experienced investors make mistakes when renting out an Oakland property. In California, the rental laws and requirements are strict and there's very little room for error. Protect yourself from those mistakes by working with us at California Pacific Realty. We'll make sure everything is done right.
We don't succeed until you succeed.
Trust Your Oakland Property Manager
We are reputable, expedient, and knowledgeable, and when you partner with our Oakland property managers, you won't have to worry about running into problems or fixing mistakes. Our processes, systems, and procedures are based on experience and best practices.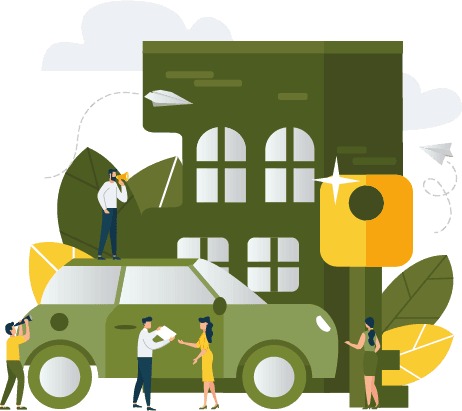 California Fair Housing Laws
We understand all state, federal, and local fair housing laws. We know what we can and cannot use when we're screening. We're careful with our marketing. Our team keeps you and your property compliant. 
Rent Control and Eviction
Is your property exempt from rent control? How can you know if your reasons for evicting meet the "just cause" requirements? Leave it to us. We can help you navigate every long-existing and recent law.
Security Deposits
Tenant disputes and legal challenges often pop up when it's time to return the security deposit. Don't make a mistake here because the penalties are huge. We know what to collect and how to return it.
Habitable Rental Homes
As the owner of any rental property, you're required to provide a safe, habitable, and well-maintained environment. We won't let you make the mistake of cutting corners or ignoring problems.
We Can Manage Your
Oakland Rental Home
Avoiding Mistakes
A mistake with your security deposit return could cost you three times the amount of that deposit.
A fair housing mistake can spark an investigation and a fine that reaches five figures.
These are not mistakes you want to make. Not only is there a financial penalty, there's also a hit to your reputation and the frustration of having to dig yourself out of some legal or regulatory hole.
Our Oakland property management services help you avoid mistakes. You'll have an experienced, qualified team taking care of the leasing, management, and maintenance of your property. It's full-service management that really serves your needs.
Proactive Solutions
When you work with us, we're one step ahead of the latest laws and the coming changes.
We don't wait for mistakes to happen. We put policies, systems, and checks and balances in place to ensure we aren't faced with recovering from a mistake that could have been avoided.
Everything we do is transparent and well-documented. You'll see how we respond to maintenance in order to avoid the mistake of allowing deferred repairs to pile up. You'll see our accurate and precise accounting. You'll be able to communicate with us at any time when you have a question or a worry.
Continuing Education
How can the team at California Pacific Realty protect you from mistakes?
In a number of ways. Most important is our dedication to continuing property management education.
We work with leaders and associations across the country to ensure we understand exactly what's required to manage your rental properties to the best of our abilities.
When it comes to Oakland property management, we're your industry experts and your local leaders. You can count on our experience, our processes, and our proactive communications. Mistakes are hard to make when you work with us.
You Need a
Free Rental Analysis
Pricing your home correctly is an important first step in renting it out. We understand the Oakland rental market and we know how it changes from neighborhood to neighborhood. We'll take a look at your property and evaluate its rent potential before we begin marketing.
We manage rental properties in Uptown, Lake Merritt, the Montclair neighborhood and elsewhere in Oakland.
Wherever your Bay Area investment property is, we can help you determine how to price your investment property to improve your cash flow and increase your ROI. Contact California Pacific Realty for a rental analysis.
What People Are Saying About Us
Monday - Friday 9am - 5pm