OWNING A Mountain House RENTAL PROPERTY
Mountain House Property Management Services Exceeding Expectations
California Pacific Realty delivers Mountain House property management services that are based in local expertise and industry experience. Our leadership in the industry and in the local real estate market leads to better investment results. Owners we work with are seeking residential management solutions that go well beyond the basics of rent collection and tenant placement. You'll benefit from our deep well of experience and our successful record of providing exceptional rental experiences for owners and residents.
There's a lot that sets us apart from other Mountain House management companies. We're systems-driven and service-oriented. We know how to help you buy, sell, manage, and renovate, and we look forward to learning more about your rental properties.
Mountain House Property Management Services Offered by California Pacific Realty
One reason that owners love working with us is that we give you our best service no matter where you are in your real estate investment career. If you're a new landlord who is renting out a home you once lived in or inherited from a family member, we can help you navigate the process and keep an emotional distance from what is now a business. If you're an experienced investor with a growing portfolio, we can help you identify new opportunities or get your existing rental homes to perform better. We can help you have a high-quality, very successful investment experience.
Our talented leasing and management team takes care of everything from finding a tenant to managing move-in processes to enforcing the lease. We handle tenant relationships and stay current on all the changing rental laws in California. Your rental property in Livermore is in excellent hands and likely to perform better when you're working with California Pacific Realty.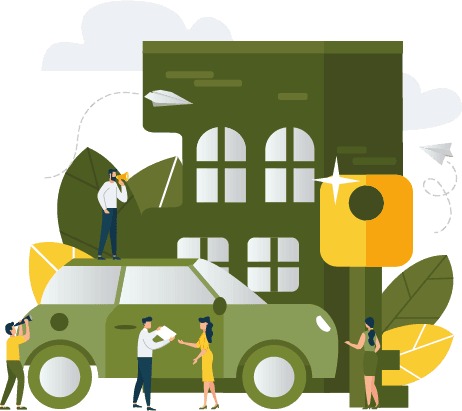 Strategic Marketing Targets Qualified Tenants
Professional photos, detailed listings, and online advertising serve as the focus of our marketing strategy.
Tenant Screening Protects Your Property
While following all state, federal, and local laws, we screen tenants carefully to ensure they're responsible and reliable.
Rent Collection is Consistent
Stop chasing down late rent and wondering how to enforce late fees. We have a consistent and well-enforced rent collection policy in place, leading to a high percentage of on-time payments.
Protecting Your Real Estate Asset
With detailed inspection reports, a preventative maintenance plan, and ongoing communication and transparency, you'll have all the peace of mind you need.
Take a Look at Our Management Plans.
Mountain House Management and Real Estate Services
Local Leasing Expertise for Mountain House Rental Properties
The laws in California have become more complex for landlords, especially when it comes to leasing your property. When you're working with a professional Mountain House property management team like ours at California Pacific Realty, you're not only getting a great tenant – you're getting peace of mind. There are no devastating and expensive mistakes when it comes to fair housing; we know the laws well, and we know how to manage an efficient and effective leasing process while remaining legally compliant. 
You can count on lower vacancy rates thanks to our superior marketing programs and streamlined application process. We place better tenants who can be trusted to pay rent on time and take care of the properties they live in. And, we take care of all fair housing and Section 8 compliance, plus we pay attention to all local, state, and federal laws.
Having an excellent resident in place is the only way to have a successful leasing experience. You can count on California Pacific Realty to attract the best local tenants, manage the entire leasing process, and prepare all parties for a pleasant and positive tenancy. 
We lease home throughout Mountain House, including Questa Village, Wicklund Village, Bethany Village, and Altamont Village.
Mountain House Rental Property Maintenance and Full-Service Management
Maintaining your property is always a priority for our team. While many independently managing landlords have trouble finding great vendors and keeping costs low, we have a streamlined, efficient, and cost-effective process in place for routine and emergency maintenance issues. 
Your residents can reach us easily through an online portal system that makes reporting repair needs easy. For emergencies, we are available 24 hours a day to ensure the damage to your home is mitigated and contained. Whether the maintenance issue is as simple as a broken door handle or as complex as a new roof, you can count on us to take care of it while saving you money and protecting the value of your asset.
Our full-service Mountain House property management services include the following:
We'll handle the tenant relationship, including disputes.
We keep maintenance costs in check with affordable work, preventative repairs, and constant communication.
We collect rent, hold the security deposit, and conduct regular audits to provide transparency and accountability.
Interior property surveys are conducted every six months, and you'll receive a detailed report with pictures.
We provide all owners with detailed accounting reports and statements.
We help owners and investors throughout Mountain House, including the zip code 95391.
Don't settle for property management that only meets some of your needs. Let our full-service plans take care of all the details.
Professional Mountain House Property Accounting Investors Can Trust
If you're working with a property management company who isn't transparent or willing to communicate with accounting statements and owner reports – it's time to find a better partner in Mountain House. You need accountability. You deserve precision. 
This is especially critical when it comes to your finances and all the income and expenses that are associated with your rental home. Our investment in property management software and innovative technology platforms helps the California Pacific Realty team provide accounting reports and statements that are detailed, accurate, and easy to read and understand. We're here if you have any questions about them, but we make sure they're user-friendly and always updated in our system.
Working with us, you can expect to receive an accounting statement every month with your rental payment. You don't have to wait, though; you can always see how your property is performing financially in real time by logging onto your owner portal. 
We follow all acceptable accounting standards and best practices. We'll maintain a trust account and an itemized list of any deposits and withdrawals to or from that account. Our team will handle the return of the security deposit and its proper accounting. Most importantly, we'll make sure you receive your rental income quickly and on time.
Our Mountain House property managers are accessible and responsive. We won't leave your questions unanswered. Emergency maintenance response is available 24 hours a day.
Get A Free Rental Analysis
Pricing your home correctly is an important first step in renting it out. We understand the Oakland rental market and we know how it changes from neighborhood to neighborhood. We'll take a look at your property and evaluate its rent potential before we begin marketing.
We manage rental properties in Uptown, Lake Merritt, the Montclair neighborhood and elsewhere in Oakland.
Wherever your Bay Area investment property is, we can help you determine how to price your investment property to improve your cashflow and increase your ROI. Contact California Pacific Realty for a rental analysis.
What People Are Saying About Us
---

Jun 24, 2022
Survey
•
California Pacific Realty
•
Dominique

Jun 16, 2022
Survey
•
California Pacific Realty
•
Imelda

Apr 26, 2022
Survey
•
California Pacific Realty
•
Vinesh

Apr 21, 2022
Survey
•
California Pacific Realty
•
Juan

Apr 11, 2022
Survey
•
California Pacific Realty
•
Chris

Mar 24, 2022
Google
•
California Pacific Realty
•
Annette

Mar 17, 2022
Survey
•
California Pacific Realty
•
Azusa

Mar 15, 2022
Survey
•
California Pacific Realty
•
Tiara

Mar 15, 2022
Survey
•
California Pacific Realty
•
Mahwiwh

Feb 21, 2022
Survey
•
California Pacific Realty
•
Estella

Feb 21, 2022
Survey
•
California Pacific Realty
•
Frank

Feb 15, 2022
Survey
•
California Pacific Realty
•
Dominique

Jan 22, 2022
Survey
•
California Pacific Realty
•
Elliott

Dec 15, 2021
Google
•
California Pacific Realty
•
Saba

Nov 28, 2021
Survey
•
California Pacific Realty
•
Auriel

Nov 20, 2021
Survey
•
California Pacific Realty
•
Guillermina

Nov 18, 2021
Survey
•
California Pacific Realty
•
Claudia

Oct 15, 2021
Google
•
California Pacific Realty
•
Kelvin

Sep 14, 2021
Google
•
California Pacific Realty
•
Asha

Sep 9, 2021
Survey
•
California Pacific Realty
•
Azlinah

Aug 23, 2021
Google
•
California Pacific Realty
•
Jafar

Aug 22, 2021
Survey
•
California Pacific Realty
•
Michelle

Jul 19, 2021
Google
•
California Pacific Realty
•
Salfiti53@gmail.com

Jun 10, 2021
Survey
•
California Pacific Realty
•
David

Jun 9, 2021
Google
•
California Pacific Realty
•
David

May 11, 2021
Survey
•
California Pacific Realty
•
Trinh

Apr 25, 2021
Survey
•
California Pacific Realty
•
John

Apr 15, 2021
Survey
•
California Pacific Realty
•
Dorothy

Apr 5, 2021
Google
•
California Pacific Realty
•
Da

Mar 16, 2021
Survey
•
California Pacific Realty
•
Emily

Feb 24, 2021
Survey
•
California Pacific Realty
•
Diogenes

Jan 12, 2021
Survey
•
California Pacific Realty
•
Nivlesh

Jan 12, 2021
Survey
•
California Pacific Realty
•
Mahwish

Jan 12, 2021
Google
•
California Pacific Realty
•
Reed

Dec 25, 2020
Survey
•
California Pacific Realty
•
Arnulfo

Dec 25, 2020
Survey
•
California Pacific Realty
•
Atiriya

Dec 17, 2020
Survey
•
California Pacific Realty
•
Garrett

Dec 17, 2020
Google
•
California Pacific Realty
•
Kim

Dec 2, 2020
Google
•
California Pacific Realty
•
Srini

Nov 30, 2020
Survey
•
California Pacific Realty
•
Joe

Nov 23, 2020
Survey
•
California Pacific Realty
•
Frank

Oct 24, 2020
Survey
•
California Pacific Realty
•
Guadalupe

Sep 14, 2020
Google
•
California Pacific Realty
•
Fahad

Aug 28, 2020
Google
•
California Pacific Realty
•
Jun

Aug 5, 2020
Survey
•
California Pacific Realty
•
Brahim

Aug 5, 2020
Survey
•
California Pacific Realty
•
MAHWISH

Jul 9, 2020
Survey
•
California Pacific Realty
•
Aaron

Jul 9, 2020
Survey
•
California Pacific Realty
•
Joseph

Jun 17, 2020
Survey
•
California Pacific Realty
•
Raj

Jun 17, 2020
Survey
•
California Pacific Realty
•
Peter
Bishop Ranch 3, 2603 Camino Ramon, Suite 200,
San Ramon, CA, 94583
(510) 757-1265
CaBRE# 01467744
2901 College Ave, Suite 24, Berkeley, CA 94705
(510) 757-1265
CaBRE# 01467744
Monday - Friday 9am - 5pm